A New Project
A year-long collaboration between Blair Stocker and Neicy Frey
A Common Thread is an elegant pairing of Art & Craft in a collaboration between artist Neicy Frey and quilt designer Blair Stocker. The duo shares their individual monthly projects and process, prompted by the art of classic embroidery stitches. Began September 1, 2019.
Each month Neicy and Blair create a project in response to a classic embroidery stitch. Blair's projects are crafted in textile, and Neicy's with paint, each an interpretation of the same stitch. Neicy and Blair share their process during the month, and at the end of the month reveal their finished pieces. The 12-month collaboration will wrap up with a joint show of their collective works.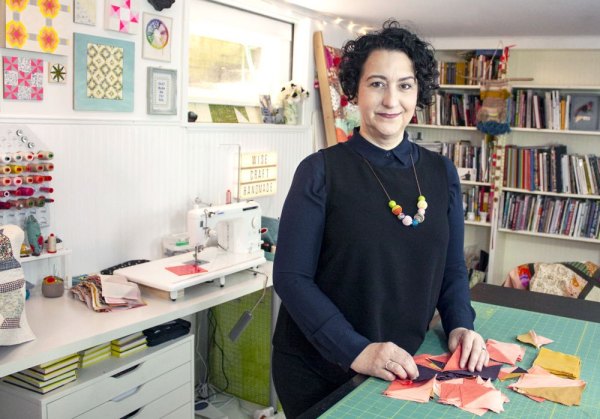 BLAIR:
I grew up in the Southeastern US, and worked in the textile and apparel design industry for many years, before moving to Seattle, Washington. These days I am deeply inspired by vintage textiles, fabrics we save for years, and pieces that have meaning to our lives. These are the pieces I regularly turn into quilts that are meant to be used in our every day life. I have written 2 books, my most recent is Wise Craft Quilts: A Guide to Turning Beloved Fabrics into Meaningful Patchwork. Find me in Seattle, and I can be found online at wisecrafthandmade.com.
I am thrilled to work with Neicy on this collaborative project. Her work has always rang clear and true to me. The colors of her pieces are so happy and her paintings have a positive energy to them that I respond to. I'm very excited to see where A Common Thread takes us.
Wise Craft Handmade- https://wisecrafthandmade.com
Instagram- https://www.instagram.com/blairs/
Pinterest- http://www.pinterest.com/Blairwisecraft/
Facebook- https://www.facebook.com/blairwisecraft
Mailing List- http://eepurl.com/c9Fwj9
NEICY:
I have always had my hands in some sort of creative project, anything that would give me an excuse to bring a design to life. I love bold shapes and color, and am constantly inspired by modern design and folk designs from around the world. I began painting in 2001, in an effort to decorate my home, and have been showing and selling my work at various capacities ever since. I am currently a full-time studio artist in Spokane. I occasionally have shows but mostly sell my work (original fine art paintings, hand-made screen printed designs and affordable fine art reproductions) online at neicyfrey.com. You can also find my paintings in select Serena & Lily design shops, online at serenaandlily.com, and exclusive art prints at chairish.com.
Working with Blair on A Common Thread is such a delight. I have always admired Blair's great design sense and her ability to blend traditional coziness with fresh and modern. Her work is not only aesthetically pleasing and finely crafted, it is approachable and holds meaningful stories of family and home. As a fellow creative entrepreneur, I have also been inspired over the years watching Blair's creativity expand her quilting and handiwork into a multi-faceted design business. I can't wait to see how our collaboration unfolds!
Neicy's website- https://www.neicyfrey.com
Instagram- https://www.instagram.com/neicyfrey/
Pinterest- http://www.pinterest.com/neicyfrey/
Mailing List- click here
THE BACK-STORY
We met next to the Big Slide at the Phinney Community Preschool Co-op in Seattle, where we were easily distracted from being attentive playground monitors by deep conversations about quilting and blogging and vintage fabric and midcentury modern design. Our pre-school boys ended up turning out ok, thankfully! We have continued to keep in touch over the years, inspiring each other from our own creative corners on either side of Washington State. We were each looking for a project outside of our normal working routine, something that would push our creative boundaries and also be fun.
And with that in mind, A Common Thread was born.
Our goal with A Common Thread is to push ourselves in new directions, to react to new design challenges, and to explore a shared love of simple embroidery stitches.
Follow along with us!